Will any GOP member of Congress who is so opposed to government healthcare for average Americans drop his or her own benefits? My guess is they'll neither "put up" nor "shut up" — and they'll do it because they know their supporters will continue to vote against their own interests.
"Put up or sit down," said Rep. Gary Ackerman (D-NY) to Republicans, who promise to repeal the sweeping health care law enacted in March. The congressman has introduced a bill to repeal the measure's most popular components, such as the ban on denying coverage for pre-existing illnesses.

"This will be the big chance for Republicans to do what they've vowed to do," Ackerman said, according to Mike Lillis of The Hill. "These bills will be their chance to at long last restore liberty and repeal the evil monster they've dubbed 'Obamacare.' "

Another New York Democrat, Joseph Crowley, on Tuesday sent a letter to Republican leaders challenging them to "walk the walk" if they intend to "deny millions of Americans affordable health care."

"You cannot enroll in the very kind of coverage that you want for yourselves, and then turn around and deny it to Americans who don't happen to be Members of Congress," the letter read.
Dems to GOP: Don't like government health care? Then drop yours
And this: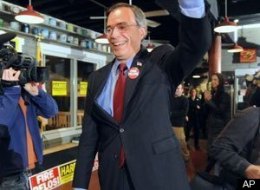 Incoming Republican Rep. Andy Harris ran against government health care reform (for the rabble), but was "incredulous" when he found out he'd have to wait 28 days for his government health care benefits to kick in.
"He stood up and asked the two ladies who were answering questions why it had to take so long, what he would do without 28 days of health care," said a congressional staffer who saw the exchange. … "Harris then asked if he could purchase insurance from the government to cover the gap," added the aide.

GOP legislator frets over 28 days without insurance — but what about 30 million he'd leave uninsured?
UNBELIEVABLE!
"This is the only employer I've ever worked for where you don't get coverage the first day you are employed," his spokeswoman Anna Nix told Politico, before explaining that the statements were grievances about the failures of government-run health care, and therefore a perfect fit into his campaign rhetoric against health care reform.